Cefix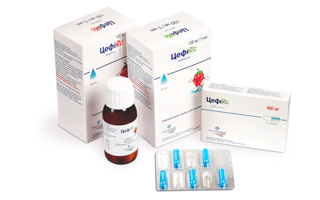 Third-generation cephalosporin.
Composition
Cefix capsules:
Active substance: cefixime; 1 capsule contains cefixime (as trihydrate) 400 mg;
excipients: microcrystalline cellulose, sodium lauryl sulfate, magnesium stearate, croscarmellose sodium, hydrogenated vegetable oil.
Cefix powder for oral suspension:
active substance: cefixime;
Each 5 ml of suspension contains 100 mg of cefixime (as trihydrate);
excipients: sodium benzoate (E211), xanthan gum, croscarmellose sodium, sodium carboxymethyl cellulose – microcrystalline cellulose, citric acid monohydrate, anhydrous colloidal silicon dioxide, sucrose, strawberry flavor (powder).
Pharmacotherapeutic group
Antibacterials for systemic use. Other beta-lactam antibiotics. Third-generation cephalosporins. АТС J01D D08.
Indications
Infections, caused by susceptible microorganisms:
acute and chronic bronchitis;
acute pneumonia;
otitis media;
bacterial pharyngitis, tonsillitis and sinusitis;
uncomplicated bacterial genitourinary tract infections;
acute intestinal infections (suspension).
Сontraindications
Hypersensitivity to components of the drug, other cephalosporins or penicillins, porphyria, pediatric age under 6 months (suspension) or under 12 years of age (capsules).
Dosage and administration
Administer Cefix orally with food.
For children aged from 6 months to 12 years with a weight under 50 kg the recommended daily dose is calculated as 8 mg/ kg of body weight once daily or 4 mg/kg body of weight twice a day.
For children aged 6 months to 12 years a duration of treatment depends on disease severity and is individualized.
The course of treatment is from 5-10 (in uncomplicated infections) to 10-14 days.
The daily dose for adult and pediatric patients with a body weight more than 50 kg or aged  12 years and older is 400 mg (1 capsule) once a day.
The duration of treatment depends on disease severity and is individualized.
In infections caused by Streptococcus pyogenes the course of treatment should be not less than 10 days.
For the treatment of uncomplicated urethral or cervical gonococcal infections a single dose of 400 mg is recommended.
Side effects
Side effects of Cefixim are insignificant and rare.
The following reactions are possible: headache, dizziness, fatigue, asthenia, eosinophilia, leukopenia, thrombocytopenia, thrombocytosis, neutropenia, hemolytic anemia, hypoprothrombinemia (bleeding and bruising for no apparent causes), thrombophlebitis, prolonged thrombin and prothrombin time, agranulocytosis, intestinal spasms, moderate diarrhea, nausea, vomiting, oral candidiasis, pseudomembranous colitis, dry mouth, anorexia, dyspepsia, flatulence, disbacteriosis, ochrodermia, in single cases – stomatitis, glossitis; transient increase in liver transaminases and alkaline phosphatase, elevated bilirubin, hyperbilirubinemia, cholestatic jaundice, icteric sclerae, elevated serum urea nitrogen or creatinine, interstitial nephritis, renal impairment; rash, pruritus, urticaria, anaphylaxis, erythema multiform or Stevens-Johnson syndrome, serum disease, purpura, arthralgia, fever, hyperhidrosis, maculopapular and vesicular rash, fungal dermatitis, epithelial peeling, dry skin, hair loss, sunburns, toxic epidermal necrolysis, vaginal candidiasis (vaginal itching or discharge), elevated urea nitrogen and creatinine, most altered laboratory tests are transient and are not clinically significant. A positive reaction for ketones in the urine may occur with tests using nitroprusside but not with those using nitroferricyanide. The oral administration of Cefixim can cause false-positive results in the urine tests for glucose (that is why it is recommended to use enzymatic tests), changes in liver and kidney function tests.
Marketing authorization
UA/4151/01/01, UA/4151/02/01