XV All-Ukrainian Research and Practice Conference "Current Issues in Pediatrics" (Sidelnikov's readings)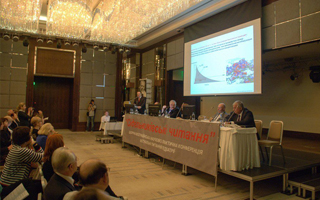 21/09/2013
The XV-th annual all-Ukrainian research and practice conference: Current Issues in Pediatrics, dedicated to the memory of the prominent Ukrainian scientist, clinician and teacher – associate member of the USSR Academy of Medical Sciences, Russian Academy of Medical Sciences, National Academy of Sciences and Ukrainian Academy of Medical Sciences, a native of Kharkov city, professor Victor Mikhailovich Sidelnikov (Sidelnikov's readings), was held on hospitable Kharkov ground September 19-20, 2013. Victor Mikhailovich would have turned 85 years old this year.
More than 700 of pediatricians and family medical doctors from all regions of Ukraine took part in the forum. Priority tasks of pediatric science in the context of the healthcare system reformation, issues on healthy child care and infant feeding, problems associated with diagnostics, treatment and prevention of common childhood diseases were discussed.
It is already customary, that Megacom became a Title Partner of this forum. Moreover, it's no coincidence, as the medicinal products, presented by our company (Cefodox, Cefix, Cefutil, Lexin, Riabal, Cefavora, Cefamadar, Neurovitan etc.), have already been the ones from the main products in the arsenal of Ukrainian pediatricians and family medical doctors for a long time.