The XXIII-th Sidelnikov's readings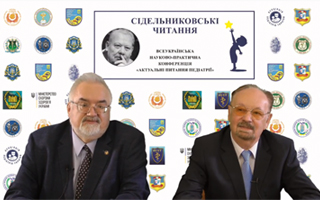 10/12/2021
The All-Ukrainian scientific-practical conference "Current issues of pediatrics" – XXIII Sidelnikov readings dedicated to the memory of the corresponding member of the NAS, NAMS of Ukraine, Professor Victor Mikhailovich Sidelnikov,  took a place on September 15-17, 2021. The conference was held online (Kyiv).
This year's conference brought together more than 1,000 pediatricians and family physicians, other pediatricians, health care providers, educators and scientists. It presented the pediatric departments of leading institutions of higher education of the Ministry of Health of Ukraine and academies of postgraduate medical education, SI "Institute of Pediatrics of Obstetrics and Gynecology named after Academician OM Lukyanova National Academy of Medical Sciences of Ukraine "and others.
The participants of the conference especially noted the current difficulties in providing medical care related to the COVID-19 pandemic and the peculiarities of pre- and postgraduate education of doctors in these conditions.
In total, 91 oral scientific reports were heard during 6 plenary sessions. The issues of clinical course, treatment and prevention of COVID-19 in children were discussed; age aspects of postcoccal syndrome; complex clinical cases in children; immunoprophylaxis as a priority for pediatricians and family physicians; upper and lower respiratory tract infections in children; discussion issues of digestive pathology in children; preventive and therapeutic strategies in modern pediatric allergology; outpatient and inpatient aspects of antibiotic therapy in children; inhibition of antibiotic resistance growth; prevention of polypragmatism in pediatrics; interdisciplinary aspects of medical care for children.