The XXII-th Sidelnikov's readings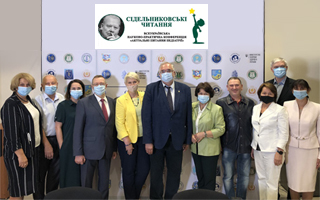 22/09/2020
XXII All-Ukrainian scientific-practical conference, dedicated to the memory of the corresponding member of the NAS, AMS of Ukraine Professor V.M. Sidelnikov,  took place on September 16-17.
This year's conference took place online and it was first experience in this format.
On-line format was choosing because now we have pandemic  COVID-9, and one of the main principles of the organizers is provide the safety for every participant.
The following issues has considered at the conference:
- Issues of clinical course, treatment and prevention of coronavirus infection COVID-19.
- The state of health of children in Ukraine and current challenges to childhood medicine.
- Vaccine prophylaxis as a priority of a pediatrician and family doctor.
- Problem-oriented approach in pediatrics: interdisciplinary integration.
- Evidence-based medicine in providing medical care to children of different ages.
- The role of clinical genetics in pediatrics.
- Infections of the upper and lower respiratory tract in children: current guidelines.
- Diagnosis and treatment of diseases of the digestive system in children.
- Preventive and therapeutic strategies in modern pediatric allergology.
- Outpatient and inpatient aspects of antimicrobial therapy in children.
- Practical ways to inhibit the growth of antibiotic resistance.
- Phytotherapy: the focus is on evidence and international experience.
- Prevention of polypragmatism in the provision of medical care to children.
- Interdisciplinary aspects of pediatric neurology and others
The event was attended over than one thousand doctors, the number of views of the conference in the record exceeded eighteen and a half thousand.