Cefavora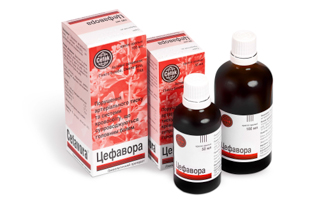 Homeopathic medicine used for control/ management of symptoms of cerebral and peripheral circulatory disorders.
Composition
Active substances: Ginkgo biloba, Viscum album, Crataegus;
100 g (= 98 ml) contain:
Ginkgo biloba Ø – 1.3 g;
Viscum album Ø – 2.7 g;
Crataegus Ø – 7.5 g;
excipient: liqueur wine.
Pharmacotherapeutic group
Complex homeopathic medicine.
Components in the composition of this medicine improve a cerebral, cardiac and peripheral microcirculation in a complex manner.
Erythrocyte and thrombocyte aggregation, and blood viscosity are reduced. Cefavora leads to the improvement in blood characteristics and capillary circulation time, stabilization of capillary membrane and permeability. Oxygen and glucose uptake processes are stimulated in tissues. Flavonoids neutralize the action of free radicals, which in large quantities are released during coronary heart disease. Normalization of cardiac, cerebral and peripheral circulation is not accompanied by a steal syndrome. Thus, it leads to improvement of oxygen supply and metabolism in tissues of brain, extremities and internals.
Indications
Blood pressure and circulatory system disorders accompanied by headache.
Сontraindications
Hypersensitivity to components of the medicine. Due to alcohol content (20%) Cefavora is contraindicated to patients with alcohol dependence. Pediatric age under 6 years old.
Dosage and administration
The medicine is administered orally. Due to its nice taste Cefavora may be administered undiluted.
Adults and children over 12 years old – 20-30 drops 3-4 times a day.
Children at the age of 6-12 years old – 10-15 drops 3-4 times a day.
Depending on the purpose and expected effect from administration of the medicine the duration of treatment is determined and individualized by a physician.
Even homeopathic medicine should not administered for long time without consulting with a physician.
Side effects
Indigestion, headache, allergic reactions can occur. The existing disease symptoms can temporarily aggravate (primary aggravation). These are quite normal manifestations not requiring withdrawal of the medicine, but if such events do not disappear, it is recommended to discontinue the administration of the medicine and consult a doctor. If some unusual events occur, it is obligatory necessary to consult a doctor.
Marketing authorization
UA/10843/01/01