"Innovation in Pediatric Gastroenterology and Nutrition in the practice of child and family doctor", Kharkiv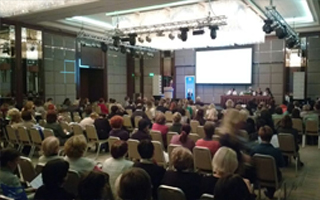 22/10/2016
20-21 October 2016 in Kharkov on the basis of the Kharkov Medical Academy of Postgraduate Education held an inter-regional scientific-practical conference dedicated to the memory of prof. Y. Belousov "Innovation in Pediatric Gastroenterology and Nutrition in the practice of child and family doctor".
To participate in the conference, experts in different fields were invited to dealing pediatrics, pediatric gastroenterology, nutrition, family medicine, scientists, representatives of pharmaceutical companies.
The following topics were considered: functional and organic gastrointestinal disease, problematic issues of nutrition of infants, malabsorption syndrome, celiac disease, food allergy and food intolerance, nutrition of children with somatic diseases, new diagnostic and therapeutic technologies in the nursery gastroenterology, diseases of the digestive system in the aspects of comorbidity, complex clinical cases and the like.
The event was held with the support of Megacom.