CPhI Worldwide 2013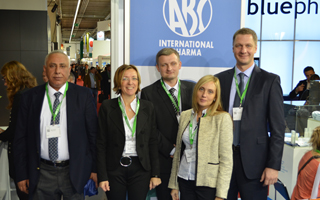 30/10/2013
The delegation of Megacom visited CPhI Worldwide international pharmaceutical exhibition, which was held on October 22-24 in Frankfurt. The following manufacturers of various pharmaceutical products from across the globe were represented at the exhibition.
In the course of the exhibition the management of Megacom carried out meetings with the representatives of the partner companies – Hikma and ABC.
Several meetings were carried with the drug manufacturers, which are interested in the partnership with Megacom and in the entry into the Ukrainian market.
On the photograph: the president of Megacom Soud Al-bess, Valeria Barberis, Olexandr Ishutkin, Elena Nazarenko, Artem Matveev