Aerofillin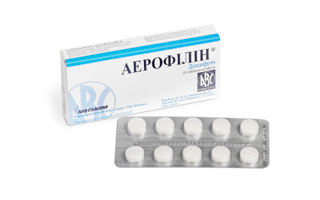 New generation methylxanthine with a high safety profile.
Composition
Active substance: doxofylline;
each tablet contains 400 mg doxofylline
excipients: sodium carboxymethyl cellulose  - microcrystalline cellulose, pregelatinised starch , talc, lactose monohydrate, povidone K-30, hydrous silicon dioxide colloidal, magnesium stearate, anhydrous silicon dioxide colloidal.
Pharmacotherapeutic group
Systemic drugs for obstructive airways diseases. Xanthines. Doxofylline. АТС R03D A11.
Indications
Asthma, pulmonary disease with spastic bronchial component (chronic obstructive pulmonary disease (COPD))
Сontraindications
Hypersensitivity to doxofylline and other components of the medicine, and to other xanthine derivatives; acute myocardial infarction; arterial hypotension.
Dosage and administration
Doses are individualized depending on the patient's age, body weight and metabolic profiles.
The average daily dose for adults and children aged 12 years old and older is 800-1200 mg (1 tablet 2-3 times a day). For children aged from 6 to 12 years old - ½ tablet 2-3 times a day (12-18 mg/kg a day).
Side effects
Gastrointestinal disorders: nausea, vomiting, epigastric pain, gastroesophageal reflux, probably rare– diarrhea, dyspepsia
Nervous system disorders: irritability, insomnia, dizziness, tremor.
Cardiovascular system disorders: extrasystole, palpitation.
Respiratory system disorders: tachypnea.
Blood disorders: very rare – hyperglycemia, albuminuria.
Allergic reactions: possibly rare – anaphylactic shock (angioedema).
Marketing authorization
№ UA/4391/01/01