Riabal syrup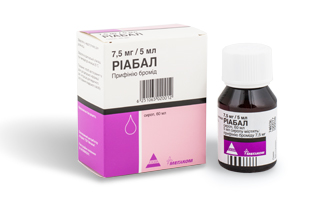 Selective anti-spasmodic drug.
Composition
active substance: prifinium bromide;
Syrup contains prifinium bromide 7.5 mg per 5 ml;
excipients: propylene glycol, glycerin, sodium benzoate (E 211), sorbitol solution (not crystallizing)  (E 420), sucrose, sodium saccharine, sodium citrate, ammonium glycyrrhyzate, liquid caramel flavoring agent, FD&C Red 40 (E 129), Sunset Yellow FCF (E110), purified water.
Pharmacotherapeutic group
Drugs for functional gastrointestinal disorders. Synthetic anticholinergics, quaternary ammonium compounds. АТС А03А В18.
Riabal selectively blocks peripheral muscarinic receptors of gastrointestinal, biliary and urinary tract mucosa, and endometrium. Riabal does not cross the blood-brain barrier. Selectively blocking muscarinic receptors it makes them resistant to acetylcholine formed in postganglionic parasympathetic nerve endings. It causes decreased smooth muscle tone of esophagus, intestine, gallbladder, bile ducts, urinary tract and uterus, and reduced pepsinia and hydrochloric acid secretion, decreased pancreatic exocrine function.
The long-term administration of Riabal has no negative impact on hepatic, renal and hematopoietic tissue functions.
The drug is poorly absorbed from the digestive tract. Its half-life period is 2.13 hours. Serum and renal clearance is 12.5 and 5.8 ml/ min/ kg, respectively. It is excreted in feces and urine.
Indications
Pain due to the gastrointestinal spasms and hypermotility: gastritis, gastro-duodenal ulcer, enteritis, colitis, post-gastrectomy syndrome.
Pain due to the bile duct spasm and dyskinesia: cholecystitis, and cholelithiasis. Pain due to pancreatitis.
Pain due to urinary tract spasm: lithureteria, vesical tenesmus, cystitis and pyelitis.
Premedication for gastric endoscopy and gastrointestinal radiography.
Vomiting.
Сontraindications
Hypersensitivity to prifinium bromide and any component of the preparation. Glaucoma, degree III prostatic hypertrophy, acute urinary retention.
Dosage and administration
Infants and children:
Under 3 months old – 1 ml every 6-8 hours
3-6 months old – 1-2 ml every 6-8 hours
6-12 months old – 2 ml every 6-8 hours
1-2 years old – 5 ml every 6-8 hours
2-6 years old – 5-10 ml every 6-8 hours
6-12 years old – 10-20 ml every 6-8 hours
Adults and children at the age of 12 years of old and older: 30 - 60 mg (20 - 40 ml) of a syrup 3 times a day.
The treatment duration is 7 - 15 days.
Side effects
Such allergic reactions as angioedema, urticaria, hyperemia, itching can develop in patients with hypersensitivity. In rare cases the following reactions are possible: dry mouth, accommodation disorder, constipations, hot flash, tachycardia, hypertension, headache, asthenia, urinary retention, blurred vision, nausea. These symptoms, however, disappear after decreasing a dosage or discontinuing the medication.
Marketing authorization
UA/2908/02/01