Neurovitan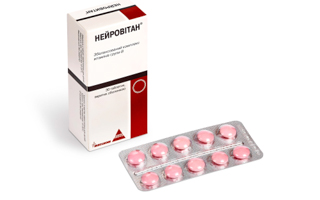 Composition
Active substances:
1 tablet contains:
Octotiamine - 25 mg,
Riboflavine – 2.5 mg,
Pyridoxine (as hydrochloride) - 40 mg,
Cyanocobalamin – 0.25 mg;
excipients: potato starch, maize starch, povidone, microcrystalline cellulose, silicon dioxide colloidal, magnesium stearate, talc, titanium dioxide (E 171), gelatin, sucrose, shellac, castor oil, Sunset Yellow FCF (E110), erythrosin (E 127), carnauba wax, paraffin, purified water.
Pharmacotherapeutic group
Additive free vitamin B complexes. АТС A11E А.
The effect of the preparation is determined by vitamins in its composition. Octotiamine (vitamin B1 and α-lipoic acid complex) is actively involved in carbohydrate and lipid metabolism, is necessary for synthesis of nucleic acids; potentiates acetylcholine action, which is involved in the transmission of nervous impulses; is important in the regulation of muscular and autonomic nervous system functions; increases tissue respiration, improves oxygen delivery to the skin cells.
Riboflavine (vitamin B2) is found in the composition of many oxidation-reduction enzymes; participates in the processes of tissue respiration and ATP synthesis, synthesis of higher fatty acids and in other processes of energy supplies to the cell; has antioxidant properties, is involved in hematopoiesis by contributing to increase of hemoglobin and erythrocytes; improves vision, increases color susceptibility and dark adaptation.
Pyridoxine (vitamin B6) is a component necessary for metabolism of amino acids, lipids and carbohydrates and for synthesis of physiological regulators such as serotonin and histamine; is involved in cholesterol breakdown, synthesis and nutrition of peripheral nerve myelin sheath and axon. Vitamin B6 deficiency causes neuromuscular dystrophy and seizures.
Cyanocobalamin (vitamin B12) is involved in protein, lipid and carbohydrate metabolism; prevents fatty liver degeneration; contributes to decrease of blood cholesterol and its removal from blood vessels; normalizes processes of growth and development by stimulating protein synthesis; regulates hematopoiesis processes; strengthens immunoprotection by increasing phagocytic activity of white blood cells and activating activity of reticuloendothelial system.
Components of Neurovitan® complex are absorbed in small intestine, bind to plasma protein, are distributed in all tissues, biotransformed in the body and removed primarily via renal excretion (both as unchanged drug and as metabolites).
Indications
Treatment of nervous system diseases: neuritis, polyneuritis, diabetic neuritis, neuralgia, sciatica, intercostal neuralgia, trigeminal neuralgia, paresthesia, peripheral neuroparalysis, facial paralysis, lumbago, arthralgia and myalgia.
Сontraindications
Hypersensitivity to any component of the drug. Vitamin B2 is contraindicated in allergic diseases. Vitamin B6 is contraindicated in active gastric and duodenal ulcer (as gastric acidity increase is possible). Vitamin B12 is contraindicated in erythremia, erythrocytosis, thromboembolism.
Dosage and administration
For oral administration in adults and children aged 3 years old and older
Usual dose for adults and adolescents aged 14 years old and older is 1-4 tablets a day.
Usual dose for children aged 3-7 years old is a tablet a day, for children aged 8-14 years old is 1-3 tablets a day.
Usual dose for pregnant women is a tablet a day. In the postnatal period, breastfeeding period usual dose is 1 - 2 tablets a day.
The course of treatment is 2-4 weeks.
Side effects
Very rare.
General disorders: asthenia, fever, hyperhidrosis.
Cardiac disorders: tachycardia.
Vascular disorders: arterial hypotension/ hypertension, fever sensation. Immune system disorders: allergic reactions, anaphylactic shock, angioedema, anaphylaxis, skin manifestations, including itching, rash, urticaria, hyperemia, burning.
Gastrointestinal disorders: dyspeptic disorders (epigastric pain, increased gastric acidity, heartburn, nausea, vomiting, regurgitation, postprandial fullness, abdominal distension, flatulence, diarrhea), dry mouth.
Eye disorders: itching and burning eyes.
Marketing authorization
UA/7433/01/01