Linotor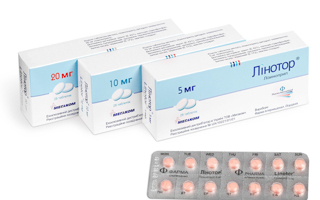 Composition
Active substance: lisinopril;
1 tablet contains lisinopril dihydrate equivalent to 5 mg of lisinopril
1 tablet contains lisinopril dihydrate equivalent to 10 mg of lisinopril
1 tablet contains lisinopril dihydrate equivalent to 20 mg of lisinopril
excipients: mannitol (Е 421), calcium hydrogen phosphate, maize starch, pregelatinised starch, iron oxide red (Е172), magnesium stearate.
Pharmacotherapeutic group
ACE inhibitors. АТС С09А А03.
Indications
Arterial hypertension, acute myocardial infarction within 24 hours from its onset in haemodynamically stable patients.
Сontraindications
Hypersensitivity to lisinopril and other ACE inhibitors or any of the excipients. History of angioedema including angioedema associated with previous ACE inhibitor therapy. Hereditary or idiopathic angioedema. Renal artery stenosis, especially bilateral renal artery stenosis or a stenosis of the artery to a solitary kidney. Severe heart failure, severe arterial or renovascular hypertension, cardiomyopathy, aortic stenosis. Pregnancy and lactation. Pediatric use.
Dosage and administration
Linotor® is indicated to adult for oral use. It is recommended to take Linotor® once daily approximately at the same time. It can be taken with or without food, as food does not affect the absorption of the preparation, but with enough amount of fluids.
Hypertension. The usual recommended starting dose is 5 mg/day in a single dose. After 24 hours a dose is increased by 5 mg. If a desired therapeutic effect is not achieved within 2-4 weeks a dose can be increased to 20 mg to be taken once daily. Patients with a sufficiently active renin-angiotensin-aldosterone system (in particular, sustained hypertension, salt and /or volume depletion, cardiac decompensation) may experience an excessive blood pressure fall. A starting dose of 2.5-5 mg is recommended for such patients and the initiation of treatment should take place under medical supervision. A maintenance dose is 20 mg/ day.
Acute myocardial infarction. Treatment with Linotor® should be started within first 24 hours of the onset of symptoms in provision that there are no contraindications (hypotension, hypovolemia, renal insufficiency). The starting dose is 5 mg. The "targeted" dose of Linotor® is 10 mg once daily. In patients with systolic blood pressure not higher than 120 mm Hg treatment should be initiated with a 2.5 mg dose of Linotor® (1/2 of a 5 mg tablet). If hypotension occurs (systolic BP is less than 100 mm Hg) a daily maintenance dose of 5 mg should not be exceeded, and if needed, it should be decreased to 2.5 mg. If after the intake of lisinopril in a dose of 2.5 mg systolic pressure remains lower than 90 mm Hg within 1 hour, treatment with lisinopril should be discontinued. If prolonged hypotension occurs (systolic BP less than 90 mm Hg) irrespective of decrease of a daily dose of lisinopril to 2.5 mg, lisinopril should be withdrawn.
For patients with acute myocardial infarction Linotor® is recommended to be taken in a maintenance dose of 10 mg daily during 6 weeks. Later on the necessity of continued administration of the medicine should be assessed. In case of left ventricular dysfunction treatment should be continued using a dose of 10-20 mg.
In renal insufficiency dosage should be based on creatinine clearance, as outlined in the table:
Creatinine clearance (ml/min): 31-80; 10-30; less than 10.
Starting dose (mg/day): 5-10; 2.5-5; 2.5.
It is not recommended to exceed a maximum daily dose of 20 mg, and for patients with creatinine clearance less than 30 ml/min – 10 mg daily.
It is appropriate to prolong intervals to once every other day for some patients depending on their tolerance.
Lisinopril can be removed by dialysis that is why patients on dialysis can take a standard dose of lisinopril on the day of dialysis procedure. On dialysis-free days a dose of lisinopril should be titrated to achieve the arterial pressure level control.
Symptomatic hypotension may occur following initiation of therapy with Linotor® in diuretic-treated patients. That is why the diuretic should be discontinued 2-3 days before beginning therapy with Linotor®. If impossible to discontinue the diuretic therapy with Linotor® should be initiated with a 5 mg dose. Renal function and blood potassium should be monitored. The
subsequent dosage of the medicine should be adjusted according to blood pressure response. Caution is recommended in patients with hypovolemia.
Elderly. A starting dose is 2.5 mg once daily. The therapeutic dose is individualized according to the patient's blood pressure.
Side effects
Manifestations of side effects can be very common (≥10%), common (≥1%, <10%), uncommon (>0.1%, <1%), rare (≥0.01%, <0.1 %), very rare (<0.01%).
Cardiovascular disorders: arterial hypotension (especially after the first dose intake by patients with sodium deficiency, dehydration, cardiac insufficiency), orthostatic reactions, including hypotension. Myocardial infarction or cerebrovascular accident, possibly secondary to excessive hypotension in high risk patients, palpitations, tachycardia, Raynaud's phenomenon. When lisinopril is used  in patients with acute myocardial infarction, the following events may occur  especially within the first 24 hours: II-III degree heart block, severe hypotension and/ or renal dysfunction (0.1-1% of cases), in rare cases (0.01-0.1%) – cardiogenic shock.
Renal and urinary disorders: renal dysfunction. Rare - uremia, acute renal failure, oliguria/anuria. In patients with impaired renal arteries and in those who concurrently receive diuretics, increased serum creatinine level and urea nitrogen may be observed.
Respiratory disorders: dry cough, bronchitis. Rare - rhinitis, bronchospasm, sinusitis, allergic alveolitis/ eosinophilic pneumonia, glossitis, dry mouth.
Gastrointestinal/ liver disorders: diarrhea, nausea, vomiting, abdominal pain and indigestion. Rare - dry mouth, pancreatitis, intestinal angioedema, hepatocellular or cholestatic hepatitis, jaundice.
Immune system and skin disorders: rash, pruritus. rare - hypersensitivity/ angioneurotic oedema, urticaria, alopecia, psoriasis, fever, vasculitis, myalgia, arthralgia/arthritis, a positive antinuclear antibodies (ANA), elevated red blood cell sedimentation rate (ESR), eosinophilia and leukocytosis, rash, photosensitivity or other dermatological manifestations.
Nervous system disorders: sometimes headache, tiredness, dizziness, mood alterations, sleep disturbances, paresthesia, balance disorder, disorientation, tinnitus and decreased visual acuity.
Blood disorders: rare - decreases in hemoglobin, decreases in hematocrit, bone marrow depression, anemia, thrombocytopenia, leucopenia, neutropenia, agranulocytosis, hemolytic anemia, lymphadenopathy, autoimmune disease.
Reproductive system and breast disorders: impotence, gynecomastia.
Investigations: increases in blood urea, increases in serum creatinine, increases in liver enzymes, hyperkalemia. Rare - increases in serum bilirubin, hyponatraemia.
Marketing authorization
UA/10221/01/01, UA/10221/01/02, UA/10221/01/03