Riabal injection / Hikma Pharmaceuticals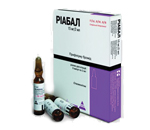 Active ingredients: prifinium bromide

1 ampule (2ml) contains: prifinium bromide 15mg

Therapeutic category

The medicine, that is used for treatment of functional gastrointestinal disturbance. Synthetic anticholinergic, a quaternary ammonium compound. ATC code À03À Â18.

Indications for use:

- Pain due to spasm and hyper-motility of the gastro-intestinal tract :
- Gastritis, gastro-duodenal ulcer, enteritis, colitis, post-gastrectomy syndrome;
- Pain due to spasm and dyskinesia of the bile duct: cholecystitis and cholelithiasis;

- Pain due to pancreatitis;
- Pain due to spasm of the urinary tract: lithureteria, vesical tenesmus, cystitis and pyelitis.

- Premedication for gastric endoscopy and gastro-intestinal radiography

- Vomiting, dysmenorrhea

Posology and method of administration

Riabal, injections, are administered to adults intramuscularly, intravenously or subcutaneously 1-3 times per day in the following doses:

Single     average – 7,5-15 mg,      max – 30 mg.

Daily:     average – 22,5-45 mg,     max – 90 mg.

Course   average – 22,5-450 mg,   max – 900 mg.

If administered intravenously, inject slowly into the vein over one minute. If injected rapidly, there is a possibility of sudden decrease in blood pressure and subsequent shock. Intravenous administration of Riabal diluted with sodium chloride 9 % solution or Glucose 5 % solution is permissible. Duration of treatment is 7-15 days

Children: Children are prescribed Riabal in the form of syrup

Category of sale: Prescription product

Manufacturer Al-Hikma Pharmaceuticals, Jordan Registration certificate: ¹UA/2908/01/01