In the spring of 2018, Megacom took part in the following specialized events: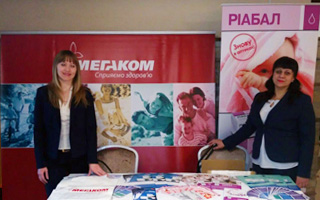 12/04/2018
Educational seminars on the topic "Implementation of European protocols for the diagnosis and treatment of diseases in children" in the cities of Ivano-Frankivsk, Vinnitsa and Kramatorsk.
Educational and educational seminars on the theme "Implementation of the latest technologies of diagnostics and treatment of gastroenterological diseases in pediatrics" in the cities of Kiev, Khmelnitsky, Vinnitsa, Zhytomyr, Chernigov and Cherkasy.
A series of seminars for pediatricians "Rational pharmacology in pediatrics at comorbid states" in the cities of Kharkiv, Poltava, Vinnitsa and Khmelnitsky.
Pediatric Saturday "Modern approaches to antibiotic therapy of respiratory diseases in children and antibiotic resistance problems" in Chernigiv.
Regional scientific and practical seminar "Continuous Professional Development of Family Physician and Pediatrician" in Ivano-Frankivsk.
Seminars "Ukrainian Pharmaceutical School" in the cities of Zaporozhye and the Dnipro.